TOP SHELF PROCESSING
Jonna Marsh – (806)341-2897
Licensed In AZ, CO, and FL
What we need to begin:
100% complete 1003
All initial submission docs and 3.4 file (Your processor will email you for these via secure email)
What you can expect:
We will take your loan from registration and disclosing all the way to closing and submitting the full loan file back to your for your QC.
We will contact your borrower to chase all conditions
We will copy you on all communication on your file
We will order title, HOI, condo docs, appraisal, VOE, etc.
We want to handle the processing of the file so you can go out and get more business
What we need from you:
Lock your loan or extend if necessary
If there are DTI issues, we need to have you instruct how you want to proceed with restructure if needed
Help if your borrower is nonresponsive
Pricing:
Processing Fee Sheet effective 5-25-2021
• Conventional, FHA, VA Loans – Flat Fee: $850 when the complete 1003 and limited docs are
submitted to move the loan into underwriting. LO is responsible to know if the loan if
prequalifies .
• Jumbo Loans – $850
• Second Loans
$200 (DPA, HELOC's etc.) Additional Fee
• 
NON QM

, Manual UW and USDA

 $1050
• 2 Week COE/Rush $200 – Additional Fee
• 3 Week COE/Rush $100 – Additional Fee
• Re-Disclosure Fee (each instance) $50 – Additional Fee **
is ONLY paid on closed and funded files – there are no cancellation fees
WINDSOR MORTGAGE PROCESSING
Kaylin Helsper – (605)681-2327
MUST USE WINDSOR MORTGAGE
Licensed In all states
CONTRACT PROCESSING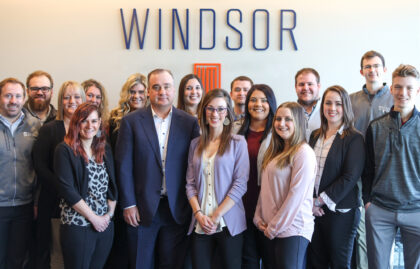 Traditionally, contract processing has been a slow and complex task requiring input from numerous departments. Windsor Mortgage has created a more efficient workflow to save our clients time and money—and stress. Our processors are experts at taking files from start to finish, providing full-service processing for brokers in a timely manner. Think of us as an extension of your staff without the added overhead.
With Windsor Mortgage, you'll pay a standard fee per file. Let us take the file all the way to the closing table in 30 days or less on average! We'll keep you and the client informed the entire time.
BROKER/NDC CHECKLIST
Clients will complete a simple checklist provided at the time of loan submission. This includes a typical submission package to the TPO website, pulling of credit and AUS, and providing a hand-off email to the customer.
After the initial submission, Contract Processing will take the file all the way to the closing table. We will provide all services, order third-party items, communicate with the customer, answer questions, explain any CD's/LE's, and set up closing.
CTC LOAN PROCESSING
Kathy Moore – (304)671-9517
Licensed In FL and VA
Broker hereby agrees to the following:
*Fully completed 1003
*Register and disclose the loan file
*Reviewed guides prior to submitting file
*Provide document storage such as drop box for access by CTC
*Provide access to brokers pipelines with lenders
*Input all contacts into lender site or provide on submission form
*Realtors
*Title companies
*Major issues with file loan officer to be involved
*Submit file to CTC with submission form 
CTC herby agrees to the following:
*Contact client once referred within current turn times (typically 24‐72 hours). Initial contact will be a review of file and a review of procedures with client.
*Review of file, any problems with file will be communicated to broker/loan officer
*Check all information in lender
*Follow up with client for any missing documents for file, to submit file
*Upload file to selected lender (determined by broker)
*Follow up on any review docs needed as requested by lender (ASAP) within 24 hours
*Order appraisal, title, and HOI‐follow up
*Follow up on loan approval conditions with‐in 24 hours of approval. Request any documents needed from borrower, realtor, loan officer, Title Company etc. (CTC goal is to send approval e‐mails the day received).
*Any major issue to be discussed with loan officer
*Upload all conditions and follow up on file until clear to close
*Order all closing docs/follow closing procedures as applicable with each lender
*Send updates as needed to clients/realtors/title company.
Files that are denied will be reviewed with the loan officer and discuss options for solutions. Loan officer to review all guidelines prior to requesting new submission to an alternative lender.
CTC will not discuss rates and terms or any other qualifying data, with the borrower. All questions from the borrower regarding these or any other items will be referred to the loan officer.
CTC will not disclose any information regarding the borrower or the terms of the loan to anyone other than to broker/loan officer.
CTC acts on behalf of our client and will not disparage or diminish our client's reputation in any way.
CTC will practice above all proper code of conduct when processing loan files and maintain a vigilant stance for protecting client and borrower information. We will not disclose or engage in any act that would potentially jeopardize confidential client information or secure transmission of loan date.
Files processed for Properties located in Virginia:
This agreement shall (i) require the loan processor or underwriter to comply with all applicable state and federal laws and regulations; (ii) require the loan processor or underwriter to permit the commission to investigate or examine its business pursuant to § 6.2-1611 of the Code of Virginia; and (iii) prohibit the loan processor or underwriter from subcontracting to another person, other than its bona fide employees, any of the services specified in the agreement to be performed on behalf of the licensee.
Payment Terms:
CTC herby agrees to provide 3rd party processing to broker referred files/clients. All 3rd party processing will be paid at time of closing to be included on the CD statement.  CTC will invoice a fee (see fee schedule appendix A) for each processed loan that closes to include post‐closing. CTC agrees to send invoice to closing attorney prior to closing. Any 3rd party processing fee not paid by borrower on a closed file will be due and payable by broker. If a file is denied due to borrower not fitting into guidelines the broker will be responsible for paying the 3rd party processing fee if more than 1/quarter.
Either party may terminate this agreement at any time with written notice. In the event, either party terminates this agreement, CTC will attempt to complete the processing of any on‐going files for broker. Broker agrees to allow CTC to complete files in pipeline.
Broker herby agrees to the above listed terms.
The Mortgage Processors
Processor assigned at time of submission 
Licensed In IL, CO, and FL
AZ coming soon!