The idea of buying a home for the first time is exciting. But do you know how overwhelming the process can be, especially if you are a first-time homebuyer? Imagine seeing people purchasing
their homes at a median price, and two weeks later, the available homes are flying off the market.  Such real estate trends will tempt you to make an impulse that might ruin your financial plans and leave you paying a debt for the rest of your life.  This could be the biggest purchase you will have made so far, and probably the biggest you will ever make. Would you want to risk messing up such a huge investment?  Trust me; you do not want to do that!!! I know you agree with me, but you are wondering how to go about it. Here are some tips to help you tackle your home-buying process without a lot of hassles.
Settle all your debts and set aside some caution funds

Find out how much a home you can afford
Set aside down payment
Save for closing costs
Get a loan preapproval
Find a home to buy
Check the neighborhoods
Conduct a home inspection
Negotiate the price offered
Get ready for closing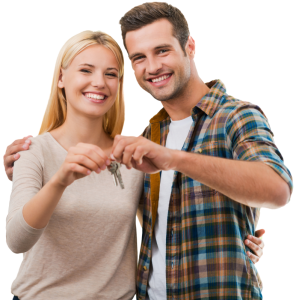 1. Settle All Your Debts and Set Aside Some Caution Funds
Homeownership is, by all means, expensive, costlier than renting. Your monthly expenses could be equal to or even less than your current rental costs, but remember you own the home, and all the maintenance and upkeep costs are your responsibility. The charges may be small but adding up so fast. For that, make sure that you have paid off all your debts and set aside some emergency funds before you think of buying a home.  Getting into your new home with a proper emergency fund and no other debt besides the mortgage, you will enjoy a smooth transition. It will also be easy for you since you will have enough cash to pay for unexpected expenses that may come your way. Ensure that you stay debt-free and be mindful of your budget and spending habits. You might have so many visions of what you would want your first home to look like, but you have to take it easy since your future financial goals are more important than decorating your home. The urge to take a new debt may also be compelling, but remember that debt is dumb, and getting a new debt could slow the approval for your mortgage.
2. Find Out How Much a Home You Can Afford
Carry out your monthly budget and know the price range of homes that you can afford before get your emotions to a beautiful house. Factor in other monthly expenses and make sure that your monthly cost does not exceed 25% of your monthly net take home. Use our
mortgage calculator
to calculate your maximum monthly payment and remember to factor in property taxes and homeowner's insurance.  Check with a Smart Mortgage advisro for estimates since the insurance and tax rates keep changing.
3. Set Aside Down Payment
Saving cash for the total price of a house is somehow unreasonable, and it can take you a long time. However, it is sensible to set aside up to 20% or more for a down payment. With a down payment, you will not need to pay for private mortgage insurance to secure the lender if you are unable to pay and find yourself in foreclosure. A PMI is added to your monthly payments, and it is usually around 1% of the total loan value. The PMI might be attractive when you are a first time home buyer, and the down payment is too much for you.
The options below are attractive but could eventually cost you more in the long run.
Adjustable-Rate Mortgages:

ARMs are attractive due to the low initial interest rate. The lender adjusts the rate, in the long run, to transfer the risk of increasing interest to you.
FHA loans: You can get an FHA loan with a down payment as low as 3.5%, but you will end up paying a mortgage insurance premium for the life of the loan.
VA loans: Veterans will buy a home with no down payment for VA loans. However, if the real estate market shifts, you will pay more than your home's market value.  A 15-year conventional loan with a 20% down payment is ideal because: The term creates a larger monthly payment, although you can settle your mortgage in half the 15-year term at a lower interest, and save in terms of interest.
The fixed-rate guarantees the same interest rate charges throughout the loan and spares you the extra expenses resulting from increasing rates.
A 30-year mortgage has a lower monthly payment, but you end up paying a lot more money in the long run.
4. Save for Closing Costs
Apart from a down payment, you will be required to meet closing costs. When you buy a home for the first time, you might not know how much you will incur to close on a house, but our team of Smart Mortgage Advisors will guide you. The amount is usually around 3-4% of the cost of your home. The figure should not bother you since the lender will tell you how much to pay on the closing day.
The incurred charges are from:
Appraisal

Home inspection
Credit report acquisition
Homeowners insurance
The attorney
5. Get a Loan Pre-approval
Once you have saved enough for a down payment and closing costs, take the next step and talk to a mortgage lender. A pre-approval is not a guarantee that you will end up getting the financing you need, although it helps you know how much home you can afford. When you get the loan pre-qualification, request a pre-approval letter to show that you are a serious buyer. This places you ahead in the competitive real estate market. The process may require you to give proof of income and taxes to verify your financial standing.
Getting the right home is an uphill task. Most buyers search for homes either online or through mortgage advisors like Smart Mortgage Center. It is also much easier to apply both. When you search for homes you like online and share with your mortgage advisor, it gives them a better idea of precisely what you want. With this, your advisor can use a Multiple Listing Service to get homes that meet your needs and desired location. Your advisor will provide you with a large pool of properties for sale from our market expertise and experience. You will also be able to find the right deals before or immediately; they are listed.
7. Check The Neighborhoods
With a list of homes for sale that you can afford, check the quality of the neighborhood and the location. Do not compromise on the quality of your home's area and location. Remember, you might spend the rest of your life there, and you will need social amenities. Inquire from your advisor details about the crime rates and quality of the facilities around the various homes. Pay a visit to the neighborhoods on different days, and times and see how people live. Choose an environment that you and your family is comfortable with.
8. Conduct A Home Inspection
Once you have selected a few neighborhoods, visit some open houses. It will help you learn more about the area. Checking out homes that are up for sale even if they are not fit for you, gives you a basis to compare with the house you will settle for. You will be able to compare your home to better or worse homes in the location.  Strategize to find and buy the most affordable house in the best location possible since you will have room to improve home value. Get a home at the bottom of the price range and upgrade the home once you buy it.
9. Negotiate The Price Offered
Most buyers compare the prices of a home to the cost of the homes they have seen before. Avoid making this same mistake. The seller will name any price they want, but it does not mean that it must be sold at the quoted price.
Your real estate agent might give you comparable sales for homes similar to the one you are buying and in the same location that has been sold within the past three months. Identical, comparable sales are hard to come by, although the difference is used to determine if the price should be added or reduced.
With the help of your advisor, make a reasonable offer within the home's value and do not stretch your budget. Avoid making high offers that you cannot afford in a bid to beat the competition. Use a personalized letter to help you stand out in the competitive market.
Free Quotes, No Obligation, No Social Security
10. Get Ready for Closing
The closing process begins as soon as the seller accepts your offer. Your advisor will keep you informed on the expectations of closing on a house to ensure that things are running smoothly.  You will always have enough time to prepare and take care of all the closing details since the entire process takes around forty-five days. The mortgage advisor will plan for all the steps and keep you updated. When undertaking the closing, ensure that you read all the documents given to you for signing and ask your advisor to elaborate on anything that might not be clear. Have it in mind that a signature is legally binding, and you will take responsibility for anything you sign. Once you are ready to start the journey towards owning your first home, do not hesitate to give us a call. Our professional mortgage advisors are always available to lift the burden off your shoulders and help you find your dream home. We will do all the groundwork, deal negotiations, and hold your hand, and see you through the closing process.